The Christian life is meant to be lived in community, together with others. Utilize the resources and opportunities below to share life and grow in faith together.
---
"Taking Faith Home" (Daily Devotional)
"Taking Faith Home" is a weekly spiritual formation resource for you to use in your daily personal or family devotions and/or with a small group. Use it creatively in a way that fits your context. You can view/download/print this week's "Taking Faith Home" by clicking the picture below.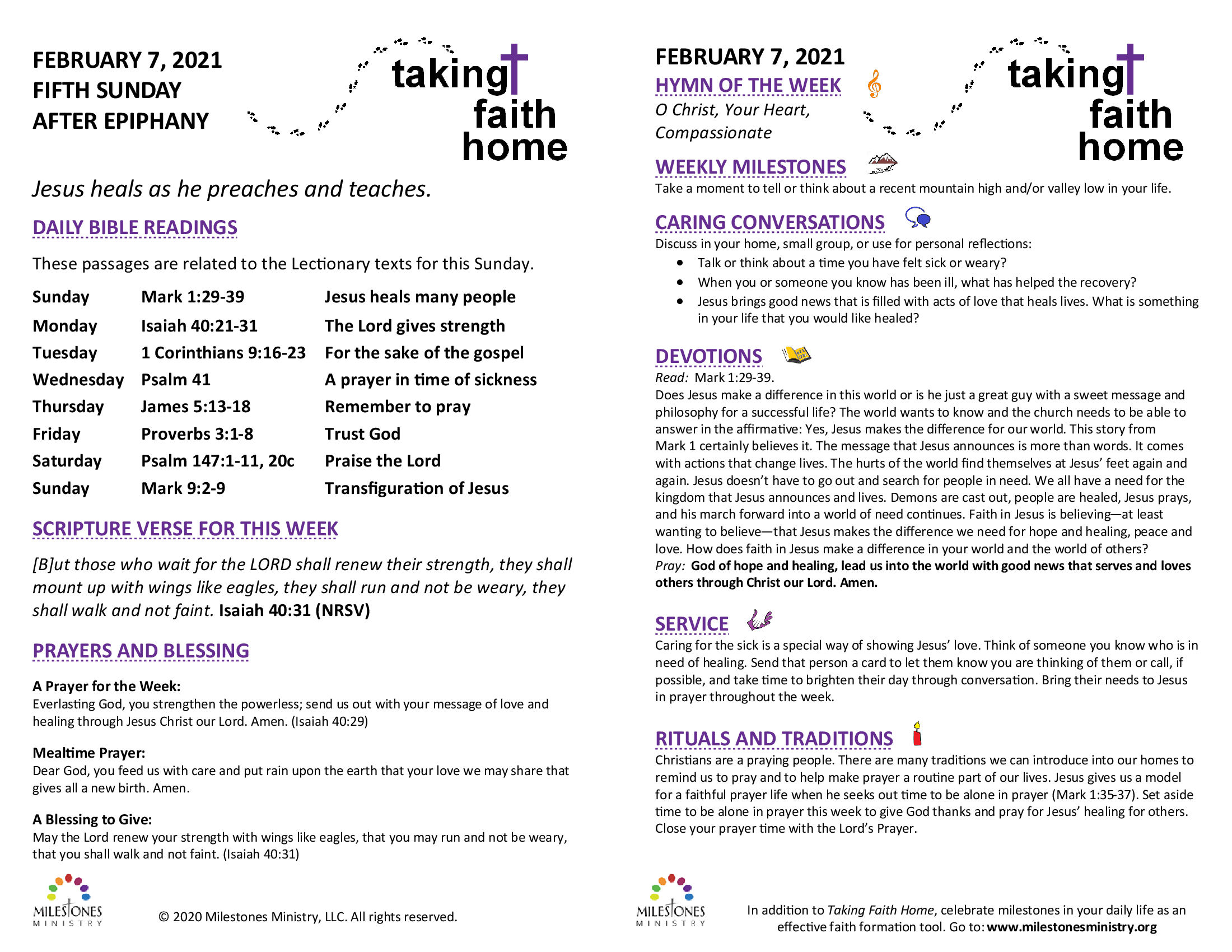 ---
DREAM.ThinkDoBe
Join us Tuesday at 7:30pm as we explore faith from a Progressive Christian perspective. This is an extended series broken into four, five-week sessions. We are currently working through the first session: Dream. Each meeting is self-standing. Drop into the study as you are able from week to week. Our time will begin with checking-in, prayer, and a video. The bulk of our time will be discussion. This week we will be discussing:
February 9, 2021
"Risk"
VIDEO | STUDY GUIDE
You can join our gathering using Google Meet by clicking this link (https://meet.google.com/zxe-kcbu-hxf) or by calling 661-527-2948‬, the PIN is ‪883 139 733‬#.
This small group discussion is open to everyone. Study Guides will be made available for this study, if you would like to receive paper copies via USPS, please contact the Church Office ([email protected]).
You may find Living the Questions: The Wisdom of Progressive Christianity (New York: HarperOne, 2012) helpful supplemental reading for this study. It is helpful but not required.
---
Weekly Check-in & Discussion
You're invited to join us for a time of checking-in as we encourage one another in our daily lives, pray, read scripture, and journey along the Way together. Here is when we will be gathering this week:
Thursday, February 11, 2021 at 7:30pm
Service of Praise, Prayer & Fellowship
You can join our gathering virtually through Google Meet by clicking this link (https://meet.google.com/txp-ndfa-ivu) or by calling 1-440-467-1448, the PIN is 220 679 745#.
All are welcome. The discussion will be as unique as the perspective each person brings to the gathering.
---
Book Club
The Book Club meets monthly on the second Monday of the month at 7pm to discuss a book determined by the group. The Book Club is currently reading A Woman of No Importance by Sonia Purnell and will meet (virtually) on Monday, February 8 at 7pm.
You can join the Book Club virtually through Google Meet by clicking this link (https://meet.google.com/feq-yjgp-xoq) or by calling 1-405-534-5197, the PIN is ‪552 165 644‬#.