PROGRAMS
The Franklin United Methodist Church offers various programs and supports a variety of ministries. Some of these are mentioned below.
Areas of Ministry
-Outreach & Mission more>>
-Nurture more>>
-Interfaith Council
-Prayer Chain
Fellowship Groups
-Men's Group
-Lunch Bunch
-Women's Book Club
-Junior/Senior High
Youth Group more>>

Church School /
Bible Study
-Church School
for grades K - 12 more>>
-Discipleship Study I & II more>>
-Short Term Classes more>>
-Confirmation Classes
Annual Events
-30 Hour Famine in Feb
-Souper Bowl in Feb
-Relay For Life in June
-Children's Lenten Mission Project
-Children's Day in June
-July 4th on The Common
-Rally Day in Sept
-Christmas Pageant in Dec
-Giving Tree to Santa Foundation
__________
CONTACT US
office:
franklinumc@verizon.net
Pastor:
pastordianne@verizon.net
82 West Central
PO Box 313
Franklin MA 02038
508.528.1092
508.533.2650
Secretary's office hours:
Tuesday
9am-12pm
Wednesday 9am-2pm
Thursday
9am-1:00pm
Pastor's office hours:
Wed 9-1pm
Thurs 9-1pm
Need something posted?
Email info
to the office
franklinumc@verizon.net
Do you want to join our mailing list?
franklinumc@verizon.net
10 am SUNDAY WORSHIP SERIVICE
Pentecost
SERMON
The Power and the Presence
SCRIPTURE READING
Acts 2:1-21
IMAGINE NO MALARIA
During May, all gifts to Imagine No Malaria will be matched by the Preachers Aid Society. Donations may be made by placing money in the collection boxes on the tables in the fellowship hall or by placing a check in the offering plate with Imagine No Malaria in the memo line.
Please consider sponsoring Beth in the Mosquito Stomp at annual conference on June 19. There is a sponsorship sheet on the table.
STRAWBERRY STROLL
Attention all pie bakers! We will have a booth set up on the church lawn to sell pies during the Downtown Franklin Partnership Strawberry Stroll on June 11. If you can bake one or more pies, please sign up on the sheet in the fellowship Hall. Beth has pie boxes for you. She will be at the church Wednesday evening from 7:30 to 9 PM to collect the pies and from 2PM on Thursday afternoon. If you can assist at the table Thursday for an hour or two between 3-7PM, please let Beth know.
CELL PHONE COLLECTION
Used cell phones will be collected at Annual conference to be given to ministries supporting victims of domestic violence. Please place your old cell phones in the box on the table in the fellowship hall.
GRADUATE SUNDAY
If you know of any graduates that you would like honored during our Graduate Sunday Worship service, please submit their names to the office. It can be high school, college or even pre-school!
COFFEE HOUR SIGNUPS
We are looking for volunteers to host coffee hour Sundays after church. Duties will include supplying refreshments for that day, setting and manning up the table, and light cleanup at the end. You will NOT need to make the coffee. Please see Donna with any questions. Thank you.
Click to Signup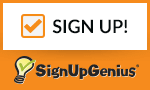 WORSHIP
Sunday Mornings 10am
Communion on the first Sunday of the month
Nursery & PreK childcare provided
Please join us for coffee and refreshments following the service
_____________
DOWNLOADS
~
Sunday
May 24 .2015
~
________________
Follow us on Facebook
________________
Follow us on Instagram
________________